Flax Oil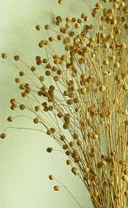 Essential Fatty Acid Supplement
Flax seed oil supplies a naturally occurring balance of alpha-linolenic acid (omega3-48%) and linoleic acid (omega6-19%), essential polyunsaturated fatty acids.
Definitions:
Polyunsaturated fatty acids - Linolenic, linoleic, and arachidonic acid are the three polyunsaturated fatty acids. Linolenic and linoleic acids have been designated as the "essential fatty acids" (EFA) and the linoleic acid is the primary dietary EFA for humans. The EFAs have important roles in fat transport and metabolism and maintaining the integrity and function of the cell membranes. The EFAs are a part of the fatty acids of cholesterol esters and phospholipids in plasma lipoproteins and mitochondrial lipoproteins. Studies have shown that serum cholesterol is lowered by EFAs. Fatty acids with EFA activity are also precursors of a group of hormone-like compounds, prostaglandins, thromboxanes, and prostacyclins, that participate in the regulation of blood pressure, heart rate, vascular dilation, blood clotting, lipolysis and the central nervous system.
Lignans – The one non-carbohydrate occurring in the cell walls of plants that is considered part of dietary fiber. Lignan is a polymer of phenyl propyl alcohols and acids and is contained in the woody portions of fruits and vegetables and in wheat bran.
Benefits of Flax Oil
Immune-enhancing lignans
Helps maintain normal cholesterol levels
Promotes good digestive health
Reduces bowel toxins
Promotes healthy skin by trapping moisture in the lower levels of the epidermis
Precursors for hormone production and anti-inflammatory prostaglandins
Protective of the cardiovascular and nervous systems.
Supplements Facts
Serving Size: 3000 mg (3 caps)
Servings: about 40
Amount Per Serving
% of U.S. RDA*
Calories
25
Calories from fat
25
Total fat
3g
Sat fat
0.5g
1%
Polyunsat fat
2.0g
Monounsat fat
0.5g
Vitamin E
0.6 IU
2%
Omega 3 Fatty Acids
1620mg**
Omega 6 Fatty Acids
450mg**
Omega 9 Fatty Acids
630mg**
* U.S. Recommended Daily Allowance for adults 4 years and older
** Daily values not established
Other Ingredients: Gelatin (capsule), Rice Flour, Magnesium Stereate